For completely updated info, please check our Czech page!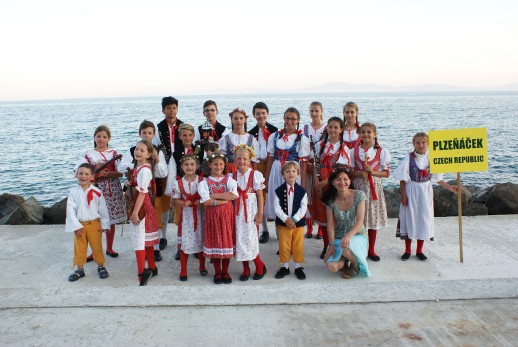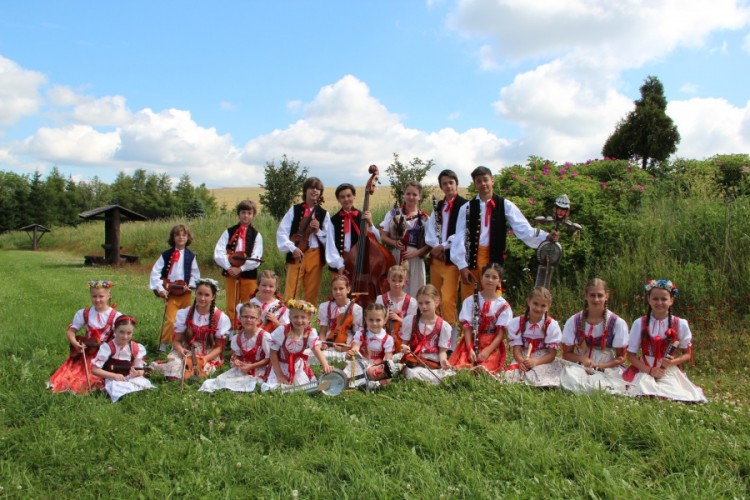 Plzeňáček
The Children Folklore Ensemble from the West Bohemia
The Folklore Ensemble Plzeňáček has existed since 1996 at the Music School of B. Smetana in Pilsen. At present, the folklore group has 25 members aged 5-15 years. Due to the large number of musicians and their range in ages, the ensemble performed between 2011 and 2013 in two separate groups, one as the Large Plzeňáček and the other as the Small Plzeňáček.
The heads of the ensemble are Olga Hráchová and Jan Rezek. The songs, mostly from the south-west of Bohemia, are adapted by the former members Vojtěch Frank and Ondřej Hrách. In the songs of Plzeňáček you can hear the Czech traditional folk instruments such as bagpipes, "fanfrnoch" or "vozembouch".
The group has performed in a number of countries - Germany, Switzerland, Italy, Lithuania, Slovakia and Austria, performed on the Czech Radio Pilsen and on the Czech Television in Prague.
Plzeňáček has won many awards at various competitions and in 2007 recorded its first CD. In 2010 they were presented with the award "Andel Roku" (The Angel of the Year) from the Mayor of Pilsen for helping the Poor. In December 2012 Plzeňáček released a new CD called "Marjánko, pojď na půdu". * National competition of folklore ensembles 2015 : 2nd place
Examples of performances:
Czech Radio Pilsen - with live broadcasting
Regular performances at the ZOO Pilsen in the project "Český rok na vsi" (Czech Year In The Village), for example:

"Slavnosti jiřinek a vinobraní" (Celebration of dahlias and grape harvesting) with the participation of actress J. Bohdalová
Great Pilsner Shrovetide (attended by the Mayor of Pilsen)
playing music at Christmas, Easter and under "májka" (the May-pole)

Cooperation - exchanges concert visits with other ensembles and orchestras of Bohemia and Moravia
Regular participation in IFF Pilsen and IFF Dýšina
Local singing competition "Lidová píseň Rokycany"(Folk Song Rokycany) (1st and 3rd place + special price)
Regional competition of folklore ensembles (1st place)
National competition of folklore ensembles (2nd place)
Performances in Prague in pursuance of "Prezentace Plzeňského kraje" (Presentation of the Pilsner Region)
Performance tours to Germany (Regensburg, Erding, Neunburg vorm Wald, Oberwiesenthal, etc.)
Cooperation with the University Hospital in Pilsen - socio-ward block and the Club of Multiple Myeloma Patients
Appearances at events of the Music School of B.Smetana in Pilsen (cooperation with their choirs)
Cooperation with the Pilsner Charity - performances at meetings of people in wheelchairs
Concerts not only for Pilsner seniors
Events at Czech castles (Kozel, Nebílovy, Bykov, Rochlov, etc.)
Shooting on Czech TV - Prague, June '07
Performances on the Czech Radio Pilsen
Performances - AUSTRIA – Klagenfurt
Participation in the International Festival Europeade 2008, Martigny – SWITZERLAND
Participation in the International Festival Europeade 2009, Klaipeda – LITHUANIA
Participation in the International Festival Europeade 2010, Bolzano – ITALY
Celebrations Zázrivá - SLOVAKIA 2011
Concert GERMANY Erding 2013
ÚSTÍ NAD ORLICÍ 2013 - Concert with the symphonic orchestra Decapoda
Summer tour KRUŠNÉ HORY 2014 with concerts in the Czech Republic and Germany
Bulgaria EUROFOLK 2015 - Pomorie